Invited Speakers
Lecturers
Participants
Conference Timetable
Key Dates
Registration Fees
Committees
Social Programme
Accomodation
Portugal | Lisbon | Coimbra
Travel
Useful Links
Previous Workshops
Poster
Book of Abstracts
Download schedule overview of the programme here
(updated in September 04, 2015)

Download detailed programme here
(updated in September 04, 2015)
Special Sessions:
- Spectral properties of matrices
- Matrix computations and numerical linear algebra
- Matrix inequalities
- Matrices and Graphs
- Matrix polynomials
- Positive and nonnegative matrices
- Linear algebra in statistics
- Stable matrices.
Two short courses delivered by experienced lectures for graduate students as well as other conference participants are planned (see Lectures).
There will be a special session in memoriam of our dearest colleague Glória Cravo: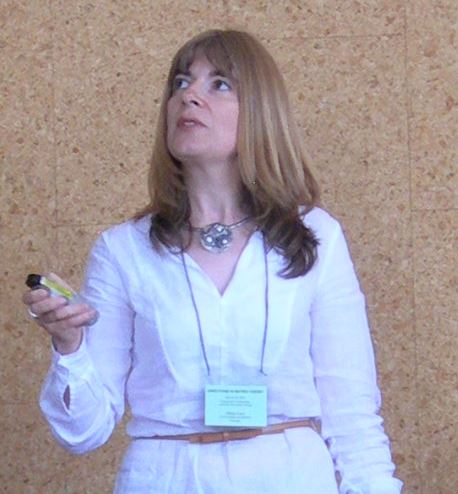 The programme also will inclued nine invited Mini-Symposia and a poster presentation.
______________________________________________________________
Invited Mini Symposia
_____________________________________________________________
IMS1. Linearizations and L-ifications of matrix polynomials: theory and applications

Organizers:
Maribel Isabel Bueno (University of California, USA, mbueno@math.ucsb.edu)
Froilán Dopico (University Carlos III de Madrid, Spain, dopico@math.uc3m.es)
Susana Furtado (University of Porto and CEAFEL, Portugal, sbf@fep.up.pt)

Speakers:


______________________________________________________________
IMS2. Spectral graph theory

Organizers:
Domingos Moreira Cardoso (University of Aveiro, Portugal, dcardoso@ua.pt)

Speakers:
Carla Silva Oliveira (Escola Nacional de Ciências Estatísticas ENCE/IBGE, Rio de Janeiro, Brazil)
Célia Moreira (University of Porto and CMUP, Portugal)
Cybele Vinagre (Universiadde Federal Fluminense, Niteroi, Rio de Janeiro, Brazil)
Enide Andrade (University of Aveiro and CIDMA, Portugal)
Helena Gomes (

Polytechnic Institute of

Viseu and CIDMA, Portugal)
Inês Barbedo

(

Polytechnic Institute of Viseu and CIDMA, Portugal)
Irene Sciriha (University of Malta, Msida, Malta)
Leonardo Lima (Centro Federal de Educação Tecnlógica Celso Sukow da Fonseca, Rio de Janeiro, Brazil)
Maria Aguieiras de Freitas (Instituto de Matemática and COPPE/Produção, UFRJ, Rio de Janeiro, Brazil)
Oscar Rojo (Universidad Catolica del Norte, Antofagasta, Chile)
Paula Carvalho (University of Aveiro and CIDMA, Portugal)
Renata Del-Vechio (Instituto de Matemática da Universidade Federal Fluminense, Niteroi, Rio de Janeiro, Brazil)
Sofia Pinheiro (University of Aveiro, Portugal)
Francisca França (Brazil)
André Brondani (Brazil)
Celso Marques da Silva Júnior (Brazil)

______________________________________________________________
IMS3. Algebraic methods in operator theory

Organizers:
M. Cristina Câmara (Instituto Superior Técnico, Lisboa, Portugal, ccamara@math.ist.utl.pt)

Speakers:
Jani Virtanen (University of Reading, UK)
David Krejcirik (Nuclear Physics Institute ASCR, Czech Republic)
Martin Mathieu (Queen's University Belfast, UK)
Sérgio Mendes (ISCTE-IUL, Portugal)
Marek Ptak (University of Agriculture in Krakow, Poland)
Teresa Malheiro (Universidade do Minho, Portugal)
Lina Oliveira (Instituto Superior Técnico, Universidade de Lisboa, Portugal)
Chafiq Benhida (Université Lille 1, France)
Alberto Simões (Universidade da Beira Interior, Portugal)
Fatemeh Esmaeili Taheri (CMUC, Coimbra, Portugal)

______________________________________________________________
IMS4. Coding theory

Organizers:
Raquel Pinto (University of Aveiro, Portugal, raquel@ua.pt)
Diego Napp (University of Aveiro, Portugal, diego@ua.pt)

Speakers:

Paulo Almeida (Portugal)

Mohamed El Oued (Tunisia)
Alicia Roca (Espanha)
Marisa Toste (Portugal)
______________________________________________________________
IMS5. Matrix theory, applications and engineering

Organizers:
Marko Stošić (Instituto Superior Técnico, Lisboa, Portugal, mstosic@isr.ist.utl.pt)

Speakers
Marko Stošić (IST, Lisboa, Portugal)
Ion Zaballa (University of Basque Country, Vitoria, Spain)
João Xavier (ISR, IST, Lisbon, Portugal)
João Paulo Costeira (ISR, IST, Lisbon, Portugal)
João Cardoso (ISR and Polytechnic Institute of Coimbra, Portugal)

______________________________________________________________
IMS6. Functions of matrices

Organizers:
Pedro Freitas (FCUL, Lisboa, Portugal, pjfreitas@fc.ul.pt)
Sónia Carvalho (ISEL, Lisboa, Portugal, scarvalho@adm.isel.pt)

Speakers:
______________________________________________________________
IMS7. Linear preserver problems

Organizers:
Henrique F. da Cruz (University of Beira Interior, Portugal, hcruz@ubi.pt)
Rosário Fernandes (New University of Lisbon, Portugal, mrff@fct.unl.pt)

Speakers:
Gregor Dolinar (Slovenia)
Antónia Duffner (Portugal)
Graça Soares (UTAD, Portugal, gsoares@utad.pt)

Rosário Fernandes (New University of Lisbon, Portugal, mrff@fct.unl.pt)
Carlos Gamas (Coimbra, Portugal)
______________________________________________________________

IMS8. Statistical inference, numerical and combinatorial methods

Organizers:
Luís Miguel Grilo (Instituto Politécnico de Tomar and CMA – FCT – UNL, Portugal, lgrilo@ipt.pt)
Fernando Lucas Carapau (Universidade de Évora and CIMA - UE, Portugal, flc@uevora.pt)

Speakers:
Statistical inference

Numerical and combinatorial methods
Fernando Lucas Carapau (Universidade de Évora and CIMA - UE, Portugal, flc@uevora.pt)
Paulo Correia (Universidade de Évora and CIMA-UE, pcorreia@uevora.pt)
Manuel Branco (Universidade de Évora and CIMA-UE, mbb@uevora.pt)
Carlos Ramos (Universidade de Évora and CIMA-UE, ccr@uevora.pt)
Luís Bandeira (Universidade de Évora and CIMA-UE, lmzb@uevora.pt)
Sara Fernandes (Universidade de Évora and CIMA-UE, saf@uevora.pt)
Marília Pires (Universidade de Évora and CIMA-UE, marilia@uevora.pt)
Clara Grácio (Universidade de Évora and CIMA-UE, mgracio@uevora.pt)
Ana Isabel Santos (Universidade de Évora and CIMA-UE, aims@uevora.pt)

______________________________________________________________
IMS9. Statistical models with matrix structure

Organizers:
Miguel Fonseca (New University of Lisbon, Portugal, fmig@fct.unl.pt)

Speakers:
João Tiago Mexia (New University of Lisbon, Portugal, jtm@fct.unl.pt)
Francisco Carvalho (Instituto Politécnico de Tomar and CMA – FCT – UNL, Portugal, fpcarvalho@ipt.pt)
Ricardo Covas (Instituto Politécnico de Tomar and CMA – FCT – UNL, Portugal, rjvc@ipt.pt)

Adílson da Silva (University of Cape Verde and New University of Lisbon, Cape Verde, adilson.dasilva@docente.unicv.edu.cv)

Arkadiusz Koziol (Poland)
Katarzyna Filipiak (Department of Mathematical and Statistical Methods, Poznan University of Life Sciences, Poland, kasfil@up.poznan.pl)
Jolanta Pielaszkiewicz (Sweden)
______________________________________________________________